Last Updated (09 July'13):
– Review & Sample Photos @ RegHardware
Nikon D5100 is a 16.2 MP CMOS DSLR camera features EXPEED2 image processing engine, ISO 100 – 6400 in steps of 1/3 EV, 11-point AF system, High-speed continuous shooting at up to approximately 4 fps*, Special Effects mode, Full HD 1080p movie capability and a side-articulated 921K dot 3.0″ tilt/swivel LCD. The camera measures 128 X 97 X 79 mm and weighs 560 g with battery and memory card but without body cap. Save up to $200.00 (29%) and get this camera only $496.95 at Amazon online store.

Overall Rating:
Expert Reviews
Nikon D5100 Reviews
RegHardware reviews the Nikon D5100 and writes;
"Yet the D5100's good battery life, versatility and ability to deliver virtually the same image quality of the D7000, adds up to a DSLR that is pretty good value for money."
Rating:
DigitalTrend reviews the Nikon D5100 and writes;
"If you're in the market for a new DSLR you can hardly wrong with the Nikon D5100. It takes solid photos and videos, offering the response shutterbugs demand as they move from point-and-shoots to "real" cameras."
Rating:
CGG reviews the Nikon D5100 and writes;
"if it's your first DSLR, you've just bought yourself professional-level image quality for a fraction of the price, and let's not forget the excellent 1080p video, the (mostly) hand friendly form factor, and ISO performance that makes even this Canon EOS 5D Mark II owner take notice. So despite our gripes, we still can easily "Highly Recommend" the Nikon D5100"
Rating:
DigitalRev compares the Nikon D5100 to the canon 600d and writes;
"Get the Nikon D5100 if you prefer a well spec'd camera that is very much tuned to the entry-level user and can give you great photos with minimal fuss. Get the Canon EOS 600D if you are planning to get serious in photography as well as DSLR videography and want something you won't want to put aside even after you get rally good."
Rating: N/A
DigitalVersus reviews the Nikon D5100 and writes;
"The Nikon D5100 has plenty of great features, including excellent picture quality, a swivel screen, good general responsiveness and a Full HD video mode. However, the controls and menus are just too complicated for an entry-level model, which is why the D5100 misses out on a fifth star."
Rating:
PCMag reviews the Nikon D5100 and writes;
"The Nikon D5100 offers a fantastic mix of still-image and video-recording quality, along with plenty of features including top-notch in-camera effects. This well-rounded shooter is an easy Editors' Choice for under-$1,000 D-SLRs."
Rating:
CameraLabs reviews the Nikon D5100 and writes;
"the Nikon D5100 is a DSLR I can Highly Recommend if you want a step-up from a budget model, fancy a relatively pain-free introduction to DSLR video, or simply desire the D7000's quality at a cheaper price. But if you're a more advanced photographer on a budget or especially a higher-end videographer, you'll almost certainly prefer the more sophisticated pitch of the Canon EOS 600D / T3i. "
Rating:
DCI reviews the Nikon D5100 and writes;
"the Nikon D5100 is what the Nikon D5000 should have been: an evolution of the D90, made lighter and cheaper, with video recording capabilities that stretch beyond gimmickry. While the D7000 is more closely the direct replacement for the D90, the D5100 offers the same image sensor, with improved full-time live view autofocus, and a flip out LCD that improves greatly on the design of the D5000's screen. Altogether, the D5100 is arguably the best sub-$1000 DSLR we have tested yet."
Rating: N/A
Andy E. reviews the Nikon D5100 and writes;
"I am impressed, really impressed. This statement is based less on the absolute performance versus the best camera in this regard (ie the D3s in High ISO) but the exceptional price/performance Nikon achieved with this camera. It is even roughly 40% less expensive than the D7000, significantly less expensive then the other models higher up in the Nikon portfolio, yet the D5100 produces images unimaginable just a couple of years ago."
Rating: N/A
HardwareZone reviews the Nikon D5100 and writes;
"The Nikon DSLR D5100 features a horizontal swing, vari-angle monitor, full-HD movie recording and Nikon's easy-to-use entry-level menu for easy photography from more angles. "
Rating:
DigitalReview reviews the Nikon D5100 and writes;
"While the Canon Rebel T3i / EOS 600D offers a number of impressive advanced features, the camera's core technologies do not match the capabilities provided by the Nikon D5100 with respect to sensor performance, metering, autofocus, and image processing ability. Since these factors are key determinants of image quality, the Nikon D5100 provides an edge, and delivers a greater consistency of enhanced image quality versus the Canon Rebel T3i as seen in our side by side comparison tests."
Rating:
TrustedReviews reviews the Nikon D5100 and writes;
"Overall though, the D5100 remains a great camera to use that's capable of delivering stunning images. If you're in the market for an advanced entry-level DSLR be sure to add it to your shortlist."
Rating:
Engadget reviews the Nikon D5100 and writes;
"The overall execution of the screen on Nikon's part is still very, very impressive. The hinge glides and moves as if on rails. The screen locks into position and is very stable at all viewing angles. Combined with Nikon's new auto focus system that is extremely welcomed when shooting video, the D5100 shines for amateur cinematographers"
Rating: N/A
T3 reviews the Nikon D5100 and writes;
"Nikon has produced a very capable and versatile camera that is fun and easy to use, its image quality is also superb. While it would make an ideal SLR for a novice looking to take more creative images, it has enough features to make it worthy of consideration by enthusiast photographers."
Rating:
PhotographyBlog reviews the Nikon D5100 and writes;
"Nikon D5100 easily overcomes its few real weak points, offering a compelling mix of great image and movie quality, precise and quick auto-focusing, accurate metering and a fantastic LCD screen, all in a format that most users will find intutive and enjoyable to use."
Rating:
ePhotozine reviews the Nikon D5100 and writes;
"Testing on JPEG, Review off, live view off, flash off, kit lens used, unless otherwise stated. Thankfully the shutter response is still very quick in live view mode even though the focusing is much slower."
Rating:
CNET reviews the Nikon D5100 and writes;
"The bottom line: Though it doesn't rank first based on any individual aspect of the camera, the Nikon D5100 delivers a solid combination of image quality, performance, features, and design that puts it out in front if you're looking for a well-rounded option under $1,000."
Rating:
Video Reviews
Nikon D5100 Reviews
Canon 600D vs Nikon D5100 comparison review by DigitalRev;

Features
Nikon D5100 Features
1. A high-resolution Nikon DX-format CMOS image sensor with an effective pixel count of 16.2-million pixels, an image-processing engine that provides superior image quality and rich expression of tones, and the new High Dynamic Range (HDR) function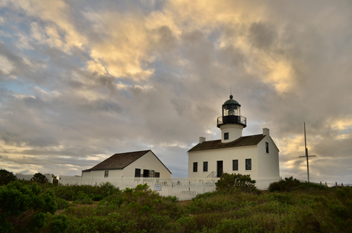 The D5100 is equipped with the same DX-format CMOS image sensor and EXPEED 2 image-processing engine as the high-end D7000 digital-SLR camera. These features enable capture of high-resolution images with excellent expression of tones. With standard sensitivity settings of ISO 100–6400 and additional increases up to Hi 2 (ISO 25600 equivalent), the camera offers improved capability with shooting under dim lighting, such as in the evening or indoors, and also produces better results with capture of rapidly moving subjects.
The High Dynamic Range (HDR) function captures two shots of varying exposure each time the shutter-release button is pressed, and then combines the two shots into a single image with a broad dynamic range. Resulting images beautifully recreate the scene as seen with the naked eye, even with shooting of backlit scenes, with little or no loss of detail in shadows or highlights.
2. 3-in., approximately 921k-dot vari-angle monitor with wide viewing angle and increased visibility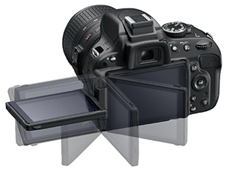 Visibility has been increased with the large 3-inch, approximately 921k-dot high-resolution vari-angle monitor adopted for the D5100. In addition, the range of colors that can be reproduced by the monitor is equivalent to that of the sRGB gamut. Adoption of a side hinge for the vari-angle monitor prevents the monitor from hitting the tripod when it is opened while the camera is mounted on a tripod. The vari-angle monitor opens from 0 to 180° to the side, and can be rotated up to 90° clockwise and up to 180° counter-clockwise when it is open. This enables shooting from a wide variety of angles, from low to high, making even self portraits possible.
3. D-Movie for recording and editing of Full-HD movies
The D5100 is equipped with the D-Movie function that enables recording of high-definition movies (1920 X 1080p, 30p) exhibiting superior video quality. Autofocusing during movie recording is possible using contrast-detect AF. When the focus mode is set to full-time-servo AF (AF-F) and the AF-area mode to subject-tracking AF, the camera automatically maintains focus on a subject moving throughout the frame.
The D5100 also offers in-camera movie editing functions that allow users to save a single frame as a still JPEG image or delete unnecessary portions from the beginning and/or end of movie files. What's more, the D5100 is equipped with built-in support for stereo audio recording via the Stereo Microphone ME-1 (available separately), and the mode dial and live view switch have been positioned on the same spindle in consideration of operational ease.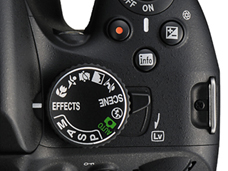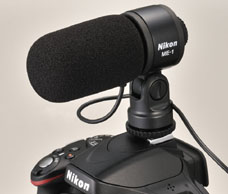 4. The first Nikon digital-SLR camera to offer Special Effects mode
The D5100 offers special effects that can be selected and applied with both shooting of still images and recording of movies. Special effects are displayed with the view through the lens in the monitor before shooting or recording begins, allowing users to confirm the desired results in real time. Users can easily enjoy adding special effects to movies. This mode was adopted to respond to the creative intent of users searching for a way to express their own unique style and creativity. The Special Effects mode built into the D5100 offers seven special effects, including Selective Color and Color Sketch.
Favorite Special Effects Selective color
All colors other than those selected by the user are recorded in black and white. Up to three colors can be selected at a time.
Color sketch
The camera detects and colors outlines for a color sketch effect. Users can use the monitor display to adjust the vividness of colors and the thickness of outlines.
Miniature effect
Distant subjects appear as miniatures for a diorama effect. Users can choose the orientation (vertical/horizontal) and width (narrow/normal/wide) of the area that will be in focus.
Night vision
When this option is selected, extremely high ISO sensitivities are used (up to ISO 102400 equivalent). This enables shooting under conditions of darkness while verifying the subject and composition in the monitor.
* *RAW recording is not possible. Still images can only be recorded in JPEG (black-and-white) format. Only contrast-detect AF can be used.
Additional Features and Functions
* High-speed continuous shooting at up to approximately 4 fps*,and a very precise and durable shutter unit that has passed testing for 100,000 cycles
* Equipped with Quiet shutter-release mode for shooting in situations in which quieter shutter operation is desired. Infrared receivers for remote control operation on the front and back of the camera enable wireless control over the shutter from both in front of and behind the camera (optional ML-L3 wireless remote control supported).
* Equipped with 16 scene modes that enable the simple capture of beautiful photos of the desired scene with automatic optimization of camera settings
* Built-in HDMI-CEC compatibility enables control over playback of still images and movies using the television's remote control when the camera is connected to a high-definition TV via the HDMI connector.
Rival
Listed below are some of the rivals of the Nikon D5100
Overall Rating:
Overall Rating:
Overall Rating:
Overall Rating:
Overall Rating:

Overall Rating:
Overall Rating:
Overall Rating:
Overall Rating:
Overall Rating: