October 13, 2010 – Los Angeles – Fotolia LLC and deviantART, Inc. announced today their plans to blend the international microstock business of Fotolia.com with deviantART's worldwide social network of artists by launching the "deviantART Stock Project with Fotolia." This new offering is part of deviantART's plans to establish an integrated commercial stock offering within its network and serves Fotolia's goal of expanding its footprint in the U.S..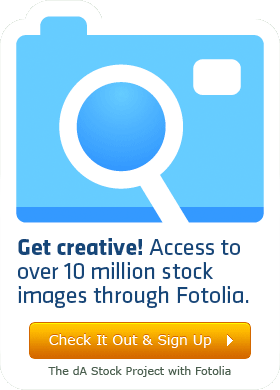 DeviantART is currently home to 15 million members around the world and represents the largest online aggregation of microstock users. The Stock Project marks the first time a microstock provider is tapping the power of community for greater distribution and participation.
"DeviantART is the purest of all artist communities throughout the world. It works on democratic philosophy that complements our goals with Fotolia. We believe that the stock industry should be an open even-playing field for all artists and not set up elitist barriers to entry. We see a lot of synergies with how deviantART has democratized art and created a safe and welcoming environment," said Oleg Tscheltzoff, founder and CEO of Fotolia. "The success of deviantART goes far beyond its impressive member base. When you take a look at the site you can see a community working together to make things happen for artists. The culture of sharing and learning is a natural magnet."
"Our community uses microstock in high volumes. We wanted to introduce a solution with affordable purchase options, simple licensing terms and without heavy subscription costs. But it was more important to have a partner like Fotolia that understands the importance as a business of developing community as resource," said Angelo Sotira, founder and CEO of deviantART. "We talked with all the major stock houses and Fotolia was the only partner for us. They offer an extensive collection of commercial stock assets and expertise; They consistently offer the best prices for stock and the best split for artists who want to contribute to the stock catalog; and Fotolia has a strong international presence that serves our global membership."
The initial offering will increase the amount of stock already available on deviantART.com and provide members with commercial tools to facilitate an image-licensing program. The fully integrated product, expected next year, will provide members with seamless on-site access to microstock assets and create a unique deviantART collection from the community's resources.
To learn more visit: http://stockproject.fotolia.com or http://stockproject.deviantart.com.
About deviantART, Inc.
DeviantART was created to entertain, inspire, and empower the artist in all of us. Founded in August 2000, deviantART is the largest online social network for artists and art enthusiasts with over 15 million registered members, attracting 35 million unique visitors per month and serving up 2 billion page views. As a community destination, deviantART is a platform that allows emerging and established artists to exhibit, promote, and share their works within a peer community dedicated to the arts. The site's vibrant community environment receives more than 140,000 daily uploads of original art works ranging from traditional media, such as painting and sculpture, to digital art, pixel art, films and anime. Visit: www.deviantART.com.
About Fotolia
Over 2 million people prefer Fotolia, LLC for affordable, royalty-free images, graphics and HD videos. With the introduction of the Infinite Collection, Fotolia became the first worldwide microstock organization to offer both crowd-sourced and professional images on one site. Founded in New York City in 2004, Fotolia spans the globe with websites in 11 languages and offices in 13 countries. With over 10,000,000 images to choose from, find it on Fotolia: www.fotolia.com